Mother & daughter team up for 'a special kind of art'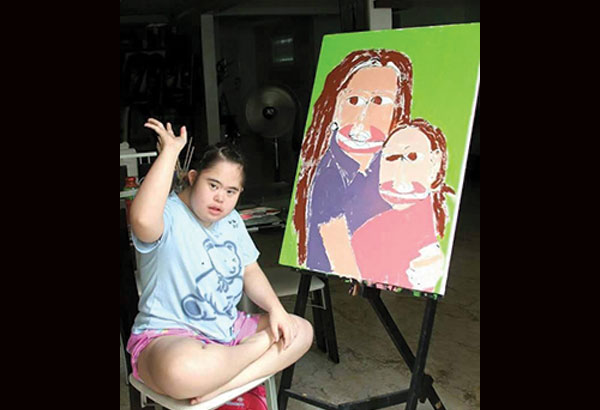 They say a mother's love is always transformative and that it can work miracles in children.
That certainly rings true in the story of Malu Tiongson-Ortiz and her daughter Clarissa, who was born with Down Syndrome. According to her mother, doctors at the University of San Francisco in California diagnosed the baby's condition immediately after she was born in March 1987.
"She had a round face, flat nasal bridge, slanted eyes, deformed ears, wide neck and low muscle tone," recalls Malu.
Now 28 years old, Clarissa was also diagnosed as having bipolar disorder. She is speech and hearing-impaired and differently-abled, with her left leg two inches shorter than the other. Because of her condition, Malu decided to home-school her daughter for six years, from the time she was 18 until she reached the age of 24.
But behind every cloud is a silver lining. Clarissa, despite her condition, had strong artistic leanings. Malu, a graduate of the University of Santo Tomas, where she took up Bachelor of Fine Arts, majoring in Interior Design, discovered that her daughter could draw and paint when she homeschooled her. Clarissa was about 18 years old then.
Malu recalls: "Initially, Clarissa made Picasso-like portraits and I would see figures or silhouettes on the paintings. I would enhance them by adding details and finishing them," she shares. "Later, I would allow her to paint whatever she wants."
Malu herself began painting as a child, around the age of eight, when her mother enrolled her in Rody Herrera's art class. (Herrera is a student of the late master Fernando Amorsolo). So being an artist herself, Malu did everything she could to encourage her daughter's talent. She would give Clarissa six coordinated paint colors and let Clarissa do whatever she wanted with them. Malu would fill in the spaces that were not painted and add in details of the figures that she saw, like women, trees and flowers.
The artistic part of it comes naturally for her, but as can be expected, caring for a child with Down Syndrome is not easy. Malu can get exhausted, especially when Clarissa's mood disorder is acting up. But with much prayer and grace from God, she is able to experience a certain kind of joy that encourages her to keep going.
"God molded my character through Clarissa. She was the instrument to make me a better mom," she says.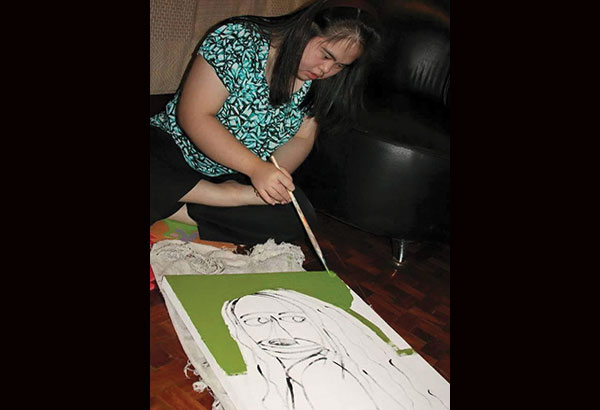 Photo by Malu Tiongson-Ortiz
"God also used Clarissa to put order to my priorities," adds Malu who used to be a very busy businesswoman and an avid golfer.
"But when I realized that Clarissa needed me, I let go of the things I liked to do. To this day, I do not regret giving up my business and hobbies for my daughter's sake."
Indeed, it is to her mother's credit that Clarissa grew up to be productive and healthy. Also, with Malu's patient encouragement, Clarissa became more active about exploring her artistic talent. She began painting more and more. Then one day, as if providential, Malu met Theresa Sion, wife of famous portrait artist Edwin Sion, through Facebook. They got to talking about art, and eventually the conversation turned to her daughter Clarissa, and how she had paintings of her own.
"Thess was attracted to our paintings and she offered to exhibit them at Fishermall where she has a store," says Malu.
That exhibit, titled A Special Kind of Art, was held at the Fishermall last September. Although Clarissa was not aware that she was exhibiting her works because of her condition, that hasn't stopped her or her mother from expressing themselves through art.